Standard all access conference passes available now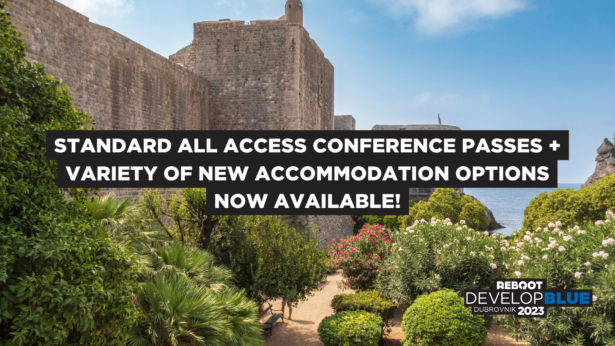 After a month long sabbatical, that the tiny but awesome and fast Reboot Develop team badly needed, we are back behind the wheel and are happy to announce that Reboot Develop Blue 2023 will absolutely crush all of its previous attendance numbers. Super early bird and early bird passes have been sold out and now the all access conference pass pricing has switched to the standard one.
All available accommodation options at Sheraton Dubrovnik, the main conference venue, have been by now sold out faster then ever. That is why together with our partners from Maistra we are making the rest of the incredible resort wide accommodation options available, they range from incredible small villas to luxury apartments, a boutique hotel, and an awesome, recently refurbished seaside hotel that over a decade of existence of Reboot Develop Blue conference has become known more for it's alternative name, The Indie Hotel. From now on all types of preferred conference accommodation is available for booking. Be sure to be fast, as even with quite a sizeable allotment of rooms and options available it all will be gone faster then ever.