Summer promo discount on Reboot Develop Blue 2024 passes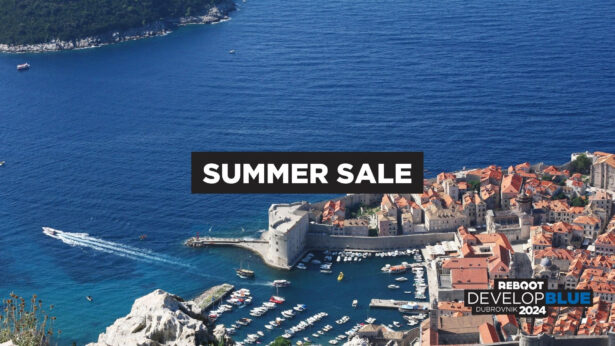 We are in the peak of the summer and our team is finally after extended holiday leaves returning rejuvenated in the middle of August back to the HQ, soon including our always travelling exec team. As we have have previously mentioned, as a reaction to feedback from many of you missing out on our big thank you discounted passes offer for Reboot Develop Blue 2024 (Dubrovnik, 22nd – 24th April 2024) we are starting the planed, although very time and quantity limited summer sales conference pass promo (it will be running until 18th of August).
This one is solely focused on the regular All Access passes while VIP passes/packages and INDIE PACKAGES for Two are unfortunately almost all sold out with very few remaining – due to capacity limits with both types of those unique packages we will not be able to further add any additional slots after those remaining are gone.
What we are experiencing so far is doubling of the the interest level (compared to 2000+ attendees in 2023) on attendance side for the conference in April of 2024 in legendary Dubrovnik, Croatia. That thing alone is causing us to hit the limits with passes even faster then usual. In total there are barely half a dozen VIP passes/packages left (no more to be available) as well as a bit above of two dozen INDIE PACKAGES for Two. If you are focusing on those please do make sure you have them booked while sill available, there is very hard limit set on them and we will not be able to accommodate more in any possible way.
___ Reboot Develop Blue 2023 was the biggest edition of the conference ever with the attendance of over 2000 games industry members from almost 700 companies, and just a bit under 150 incredible speakers.
___ Reboot Develop Blue 2024 will be happening at the same beautiful location and venue within breathtaking Dubrovnik from the 22nd to the 24th of April 2024. It will be followed up by the unique and incredible, this year quickly sold out even for its premier edition, Reboot Games Industry Sailing Week 2024 from the 25th to 28th of April 2024.
CONFERENCE PASSES AND SUMMER PROMO DISCOUNT SALE AVAILABLE at www.rebootdevelopblue.com/2024
___ We still do not have dates finalized for Reboot Develop Red 2023 in Canada, with originally targeted early November dates, as unpredictable scheduling conflict appeared with other key industry events in the region, but that is being worked on as well and as soon as we have final piece of info we will be coming out with news!